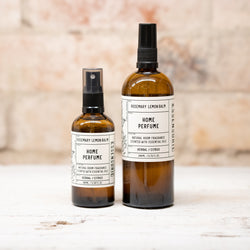 Rosemary Lemon Balm Home Perfume
Create a fresh and inviting ambience in your space with a blend of pure essential oils to delight the senses. Simply spray the beautiful scented mist in whichever space you would like fragranced. Fantastic for bathrooms, throughout the house, in the office or for musty cars. Can also be used as a linen spray for freshening bedsheets and towels.
Motivate your mind with this intensely green aromatic infusion of summer-harvested Mediterranean herbal essences. Deeply inhale the leafy aroma of fresh herbaceous French rosemary, the citrus scent of alpine lemon balm, the relaxing fragrance of steam-distilled lavender, the minty top note of crushed spearmint leaves and the fruity zing of Italian lemon peel with a twist of peppery white thyme.
Ingredients: Bio-ethanol (sugarcane derived), purified aqua, essential oils of: rosemary, lemon balm, English lavender, spearmint, lemon.
We ship domestically through Australia Post. At this stage international shipping is not available.
$10 for purchases under $100 and free for purchases $100 or over. Express post $20 for purchases under $100 and $10 for purchases $100 or over. We send orders on Monday, Wednesday and Friday.
Click & Collect now available. Select the free local pickup option at checkout. Collections are available seven days during shop hours. You will receive pickup instructions in the email that confirms your order is ready for collection. Please bring ID and show us your confirmation email.
You will receive tracking updates from Australia Post.
All of our shipping packaging is biodegradable and recyclable. We use cardboard shipping boxes, masking tape and a fabulous brown paper cushioning protective wrap.
If you are not fully satisfied with any Essensorie purchase please contact us and we will refund you or offer a replacement.
Should you have any queries about our shipping please email us through info@essensorie.com.